路易斯康 Louis Kahn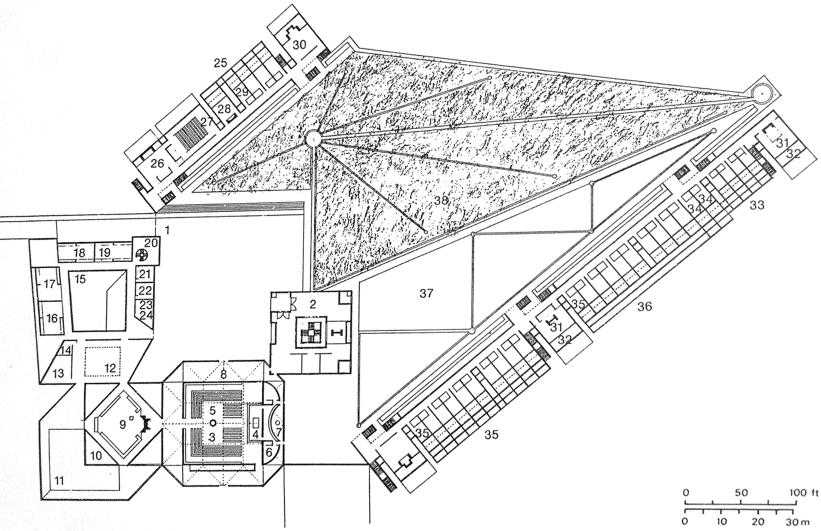 为什么我们一定要假设,没有比第一所修道院的出现更神奇的事情了?只是有些人意识到,某种空间境界代表着修道的活动:人在其中表达一种无法表达的深层欲望。在人类历史上,有一段时期是建立在每个人都支持的基础上的,就好像它永远都是这样,这实在是太不可思议了。

Why must we assume that there cannot be other things so marvelous as the emergence of the first monastery, for which there was no precedence whatsoever? It was just simply that some man realized that a certain realm of spaces represents a deep desire on the part of man to express the inexpressible in a certain activity of man called monastery. It's really nothing short of remarkable that a time comes in the history of man when something is established which everybody supports as though it were always eternally so.
在这一点上,我们不妨谈谈永恒与普遍之间的区别。那是普遍的,实际上只是处理物质的东西。但永恒的东西是一种全新的本质,是无意识的自然所不理解或不知道的,而人是存在于自然中的有意识的欲望。我相信因为这种二分法,自然会因为人的存在而改变,因为人是有梦想的,而自然给他的作为工具的东西是不够的。他想要更多。

And at this point it would be well to speak about the difference between the eternal and the universal. That which is universal is really just what deals with the physical. But that which is eternal is a kind of completely new essence that nonconscious nature does not understand or know about, whereas man is the conscious desire that exists in nature. And I believe that because of this dichotomy, nature will change because of the presence of man, because man is of dream, and what nature gives him as instrument is not enough. He wants much more.
建筑是大自然所不能创造的。自然不能造人所造的任何东西。人类利用自然——创造事物的手段——并孤立其法则。大自然不这样做,因为它与我们称之为秩序的法则和谐相处。它从不孤立地工作。但是人类是在这种孤立状态下工作的,所以你可能会说,与人类的欲望和精神真正想要表达的东西相比,他所做的一切都是微不足道的。人总是比他的作品伟大。他永远不能用他的器,把完全满了的东西拿出来。

Architecture is what nature can not make. Nature cannot make anything that man makes. Man takes nature—the means of making a thing—and isolates its laws. Nature does not do this because nature works in harmony of laws, which we call order. It never works in isolation. But man works with this isolation, so whatever he makes is really quite minor, you might say, compared to what is really wanting to be expressed by the desire and the spirit of man. Man is always greater than his works. He could never, with his instrumentation, bring out that which is completely full.
我对信仰的理念非常虔诚,因为我意识到很多事情都是用实际的手段完成的,没有信仰的支持。没有信仰,就没有整个现实。当人做大型重建项目时,他们背后没有信仰。方法是有的,即使是那些让它们看起来很漂亮的设计手段,但你感觉不到有什么东西在某种程度上是一束光,照耀着人类一种新制度的出现,使他感到一种重新焕发生机的生活意志。这来自于对信仰负责的意义,这种感觉必须回到信仰中去,而不只是为了做一件令人愉快的事:这不是什么了不起的成就。

I felt very religiously attached to the idea of belief because I realized that many things are done with only the reality of the means employed, with no belief behind it. The whole reality isn't there without the reality of belief. When men do large redevelopment projects, theres no belief behind them. The means are available, even the design devices that make them look beautiful, but theres nothing that you feel is somehow a light which shines on the emergence of a new institution of man, which makes him feel a re-freshed will to live. This comes from meaning being answerable to a belief, Such a feeling must be back in it, not just to make something which is pleasant instead of something which is dull: that is no great achievement.
另一件我强烈感觉到的事情是:如果一种信仰总是带有很大的复杂性,我担心这是对它的有限的解释:一个人对信仰了解的不够多,以至于不能让它总是完全意识到,并且美丽。人必须先存在的意义,充其量它必须被称为后乘以过时了——也没有完全表达自己在所有它的美,但是这种权力的存在,其他人并没有改变其精神,但对其出现在美工作。我相信美在某种程度上存在于我们为之努力的事物的光中它是选择性的。它与存在和谐的完整性有关。

And another thing I feel very strongly: that if a belief always carries with it a great deal of sophistication, I'm afraid it's the limited interpretation of it: one does not know so much about the belief as to make it always fully aware and beautiful. One has to sort of sense it must exist first, and at best it must be called at later times archaic- something which didnt quite express itself in all its beauty, but had such power of existence that others did not change its spirit but worked toward its emergence in beauty. And I believe that beauty somehow sits in that light of being something we work toward It's selectivity. It's something which has to do with a completeness of the harmony of a presence.