FORM DEFINING SPACE︱HORIZONTAL ELEMENTS DEFINING SPACE
抬升的地面 ELEVATED BASE PLANE
雅典卫城 The Acropolis, the citadel of Athens, 5th century B.C.
出云大社 日本 Izumo Shrine, Shimane Prefecture, Japan, A. D. 717 (last rebuilt in in 1744)
朱比特神庙 罗马Temple of Jupiter Capitolinus, Rome, 509 B.C.
太和殿 故宫 Pavilion of Supreme Harmony (Taihe Dian) in the Forbidden City, Beijing, 1627
巴孔寺内的山庙 柬埔寨 Temple Mountain at Bakong Temple, A.D. 881, Hariharalaya, Cambodia
故宫中的庭院 Private Courtyard of the Imperial Palace, the Forbidden City, Beijing, 15th century
范斯沃斯住宅 密斯 Section of the Farnsworth House, Plano, Illinois, 1950, Mies van der Rohe.
拉土雷特修道院 高祭坛 柯布西耶 High Altar in the Chapel at the Cistercian Monastery of La Tourette, near Lyons, France, 1956–59, Le Corbusier
东哈里姆学校 East Harlem Preschool, New York City, 1970, Hammel, Green & Abrahamson
下沉的地面 DEPRESSED BASE PLANE
拉里贝拉石刻教堂 Rock-cut churches of Lalibela, 13th century
埃皮达罗斯剧场 希腊Theater at Epidauros, Greece, c. 350 B.C., Polycleitos
阿伯纳里 阶梯井 印度Step well at Abaneri, near Agra, India, 9th century
窑洞 Underground village near Loyang, China
洛克菲勒中心 下沉广场 Lower Plaza, Rockefeller Center, New York City, 1930, Wallace K. Harrison & Max Abramovitz.
沃尔夫斯堡文化中心 图书馆 阿尔瓦·阿尔托 Library, Wolfsburg Cultural Center, Essen, Germany, 1962, Alvar Aalto
罗瓦涅米图书馆 阿尔瓦·阿尔托 Partial Plan, Library in Rovaniemi, Finland, 1965–68, Alvar Aalto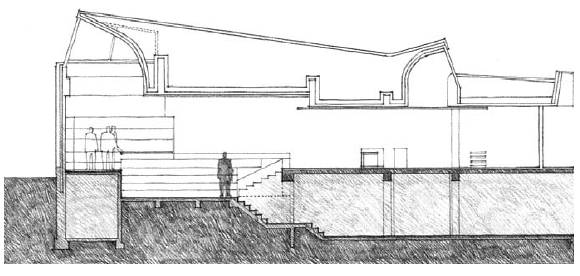 马萨诸塞州海滨住宅 House on the Massachusetts Coast, 1948, Hugh Stubbins
顶面 OVERHEAD PLANE
户冢力乡村俱乐部 丹下健三 Totsuka Country Club, Yokohama, Japan, Kenzo Tange, 1960–61
苏黎世中心 柯布西耶 Centre Le Corbusier, Zurich, 1963–67, Le Corbusier
沃尔夫斯堡教堂 Interior of Church, Parish Center, Wolfsburg, Germany, 1960–62, Alvar Aalto
建筑形式空间和秩序
Architecture form, space and order