FORM︱ ARTICULATION OF FORM
Palacio Güell, Barcelona, 1885–89, Antonio Gaudi
边角处理EDGES & CORNERS
艾弗森博物馆 贝聿铭 Everson Museum, Syracuse, New York, 1968, I.M. Pei.
The unadorned corners of the forms emphasize the volume of their mass.
出云大社 日本 Corner Detail, Izumo Shrine, Shimane Prefecture, Japan, A.D. 717 (last rebuilt in 1744).
The timber joinery articulates the individuality of the members meeting at the corner.
角柱
国民步廊公寓 密斯 Corner Detail, Commonwealth Promenade Apartments, Chicago, 1953–56, Mies van der Rohe.
The corner member is recessed to be independent of the adjoining wall planes.
巴西利卡 帕拉迪奥 Corner Detail, The Basilica, Vicenza, Italy, 1545,

Andrea Palladio. The corner column emphasizes the edge of the building form.
圆角
Rounded corners express continuity of surface, compactness of volume, and softness of form.
爱因斯坦大楼 Einstein Tower, Potsdam, Germany, 1919, Eric Mendelsohn
约翰逊制蜡公司大楼 赖特 Laboratory Tower, Johnson Wax Building, Racine, Wisconsin, 1950, Frank Lloyd Wright
开放的边角
Openings at corners emphasize the definition of planes over volume.
考夫曼沙漠别墅 理查德·诺伊拉特 Kaufmann Desert House, Palm Springs, California, 1946, Richard Neutra
凡杜斯堡 Architectural Design Study, 1923, Van Doesburg and Van Esteren
形体表面处理 SURFACE ARTICULATION
表面的重量
The color, texture, and pattern of surfaces articulate the existence of planes and influence the visual weight of a form.
梅迪齐里卡多府邸 米开佐罗 Palazzo Medici-Ricardo, Florence, Italy, 1444–60, Michelozzi
霍夫曼住宅 理查德·迈耶Hoffman House, East Hampton, New York, 1966–67, Richard Meier
线条与网格
The linear sun-shading devices accentuate the horizontality of the building form.
约翰·迪尔公司大楼 埃罗·沙里宁 John Deere & Company Building, Moline, Illinois, 1961–64, Eero Saarinen & Associates.

Linear columnar elements emphasize the verticality of this high-rise structure.
大楼 埃罗·沙里宁CBS Building, New York City,1962–64, Eero Saarinen & Associates.

A grid pattern unifies the surfaces of the three-dimensional composition.
福冈银行 矶崎新 Fukuoka Sogo Bank, Study of the Saga Branch, 1971, Arata Isozaki.
凹凸洞口肌理
A transformation from a pattern of openings in a plane to an open facade articulated by a linear framework.
The three-dimensional form of the openings creates a texture of light, shade, and shadows.
IBM研究中心 IBM Research Center, La Guade, Var, France, 1960–61, Marcel Breuer.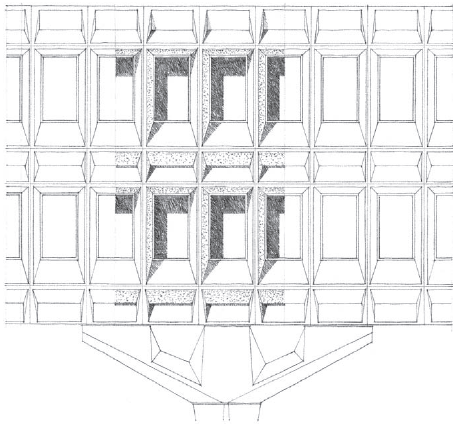 The pattern of openings and cavities interrupts the continuity of the exterior wall planes.
唯一神教堂 路易斯康 First Unitarian Church, Rochester, New York, 1956–67, Louis Kahn.

建筑形式空间和秩序
Architecture form, space and order